LEARNING ACTIVITIES
1. Interact with Maestro Sersea: Send an e-mail at maestrosersea @ gmail . com and let Maestro Sersea know your name, location, job, hobbies, and how it's going with your English learning. Maestro Sersea will then respond within a few days.
2. Maestro Sersea's educational website of the week: www.englishwebinars.com
3. Do you want to learn "What are the Best Ways to Learn English?"
Click here: https://usareading.club/bestways/
You can now preview Maestro Sersea's book by the same name, read and listen to 12 supplemental online articles, and even take a quick online course with online tests.
4. Click on the links below to access some of our educational articles for English Learners:
Great news, English Learners – I'm now adding multiple-choice tests for all of our educational online articles so that you can improve your English reading comprehension, as well as your listening comprehension and pronunciation, when you read along with the available audio recordings.
INTERESTING FACTS, PLACES TO VISIT, AND THINGS TO SEE IN EACH STATE OF THE USA:
Character is how you choose to act. Every choice you make defines the character you have. Do you want to be remembered as a person of solid character?
Study five of the 30 qualities that make up good character below:
NEWS FROM MAESTRO SERSEA
News 1: Spectacular News! Maestro Sersea will soon open the virtual doors of California International Online School (CAINTOS), an affordable private online school for English Learners from all over the world. To learn more and sign up for our CAINTOS newsletter, please visit www.caintos.com.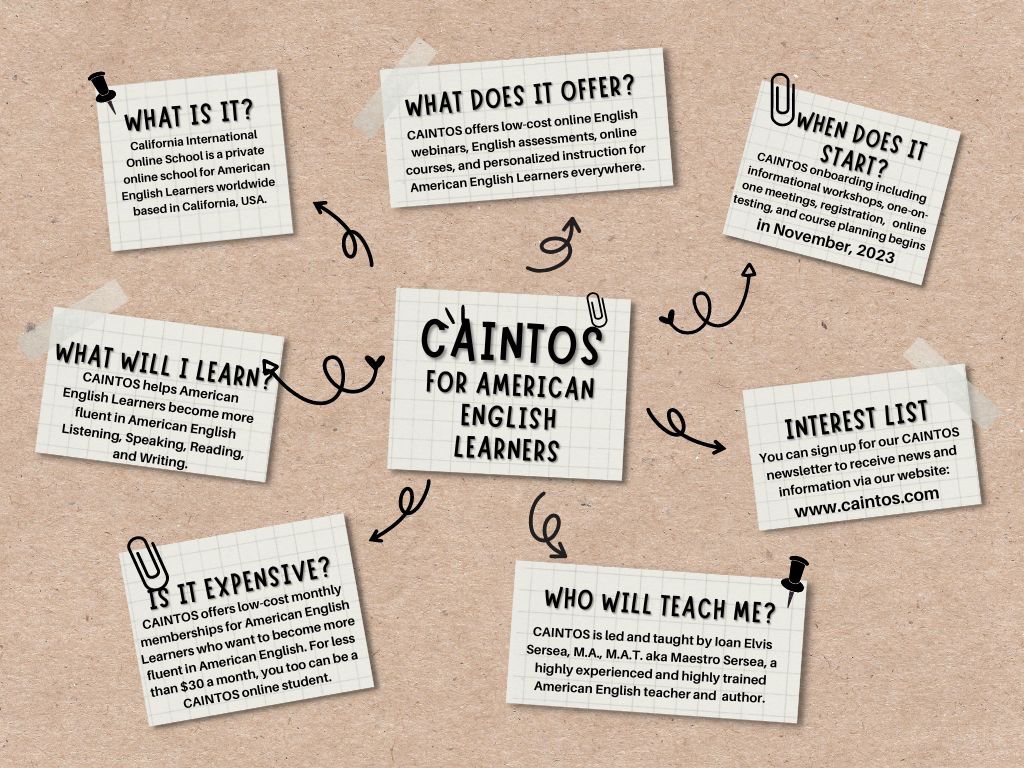 News 2: Great news!!! There will be three webinars and conversation practice sessions in September 2023. Please tell your friends and spread the word by sharing the link below with them.. To find out more about our September 2023 Zoom Webinars and Conversation Sessions and to register, click here: https://englishwebinars.com/blog/2023/08/06/september-2023-american-english-webinars-and-conversation-practice-introduction/
NEWS 3: Do you wish to access Maestro Sersea's seven published books for English Learners? Click here.
NEWS 4: Great News! Maestro Sersea just started podcasting again. Check out my latest podcasts for English Learners below. Now you can listen to the Maestro Sersea podcast for English Learners on numerous Podcasting platforms, including Spotify, IHeartRadio, Google, Amazon, Podbean, PlayerFM, Listen to Notes, Deezer, Podcast Addict, Stitcher, and more. Follow and listen to our new educational podcasts as they continue to be published every 3-4 days.
Thank you, students. I will send you the next American English News from Maestro Sersea on Sunday of next week.