LEARNING ACTIVITIES
1. Interact with Maestro Sersea: Send an e-mail at maestrosersea @ gmail. com and let Maestro Sersea know your name, location, job, hobbies, and how it's going with your English learning. Maestro Sersea will then respond within a few days.
2. Maestro Sersea's educational website of the week: www.caintos.com
4. Click on the links below to access some of our educational articles and lessons for English Learners:
Great news, English Learners – We're in the process of adding multiple-choice tests for all of our educational online articles so that you can improve your English reading comprehension, as well as your listening comprehension and pronunciation, when you read along with the available audio recordings.
INTERESTING FACTS, PLACES TO VISIT, AND THINGS TO SEE IN EACH STATE OF THE USA:
INTERESTING FACTS, PLACES TO VISIT, AND THINGS TO SEE IN MAJOR CITIES OF THE USA:
Click on the links below to learn about specific reading comprehension skills:
Click on the links below to improve your academic English vocabulary:
Click on the links below to improve your American English communication skills:
NEWS FROM MAESTRO SERSEA
News 1: Spectacular News! At the beginning of 2024, Maestro Sersea will open the virtual doors of California International Online School (CAINTOS), an affordable private online school for English Learners worldwide. To learn more and sign up for our CAINTOS newsletter, please visit www.caintos.com.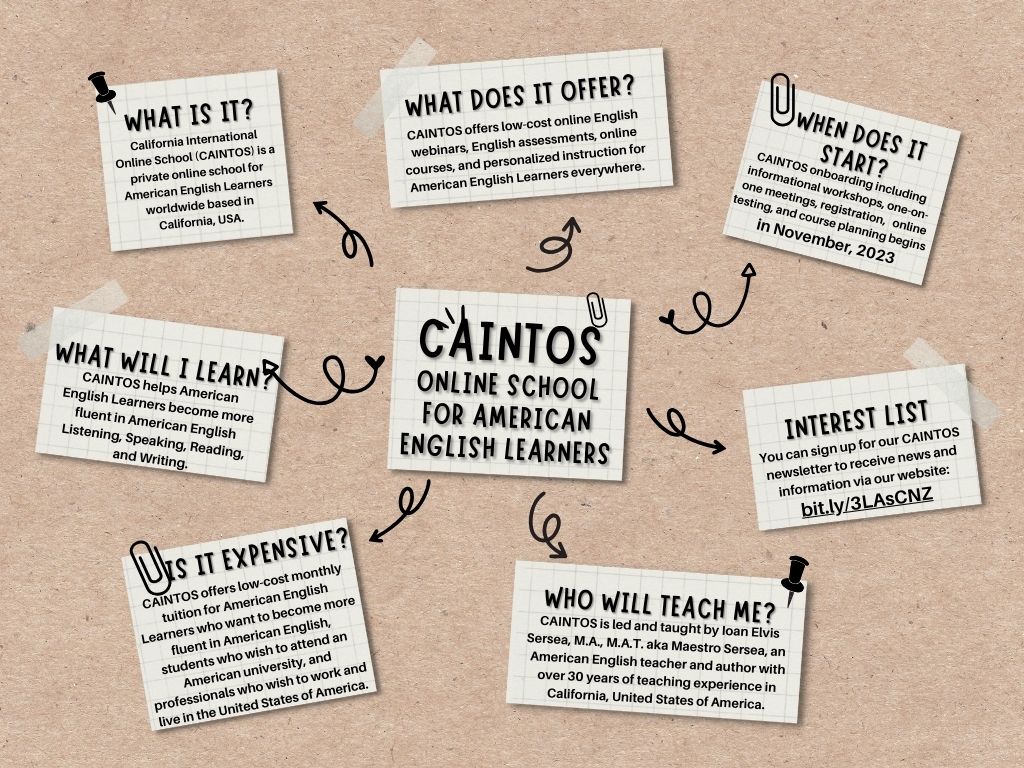 News 2: Good news/bad news!!! We'll start with the bad news. Our MaestroSersea Android App is no longer operational. In its heyday, we had the app installed on over 3,000 mobile phones worldwide. However, we still have our internet radio station operational, with educational programming and music running non-stop, 24 hours a day, and you can access it via most of our websites as well as here: https://maestrosersea.com/radio/
NEWS 3: Click Here if you wish to access Maestro Sersea's seven published books for English Learners
NEWS 4: Great News! Maestro Sersea just started podcasting again. Check out my latest podcasts for English Learners below. Now you can listen to the Maestro Sersea podcast for English Learners on numerous Podcasting platforms, including Apple, Spotify, IHeartRadio, Google, Amazon, Podbean, PlayerFM, Listen to Notes, Deezer, Podcast Addict, Stitcher, and more. Follow and listen to our new educational podcasts as they continue to be published every 3-4 days.
Thank you, students. I will send you the next American English News from Maestro Sersea on Sunday of next week.